Wife of Orlando gunman, Noor Salman, could face charges
Comments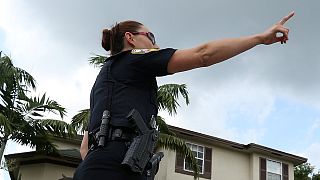 US officials are considering whether to charge the wife of the gunman who killed 49 people at a gay nightclub in Orlando, in connection with the attack.
Noor Salman is reported to have tried to talk her husband, Omar Mateen, out of going through with the shooting. Mateen himself was eventually shot dead by police.
The FBI has not arrested Salman, as agents gather as much evidence as possible to determine whether she provided her husband with assistance as he prepared for the assault at the club.
At the same time the FBI is also facing questions over whether it missed warning signs during a 10-month probe of Mateen that ended two years before the massacre.
During that investigation, the gunman had been placed on a terrorism watch list. His wife, Salman, had apparently never come to the attention of the FBI.
Meanwhile along with harrowing tales from survivors of the massacre, some like Angel Santiago have explained why going to a gay night club like Pulse meant so much to them.
"For me being a gay man, going to a club like Pulse, it's kind of like a safe haven because you can't go to any old bar and be who you are because there is hate everywhere."
Survivor Patience Carter prefered to express herself through a poem. Quoting the last lines she said:
When you lay beside individuals
Whose lives were brutally taken
The guilt of being alive is heavy.