Hillary Clinton's 'birthday gift' to Donald Trump...
Comments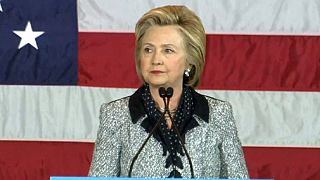 He turned 70 on Tuesday but the only thing Donald Trump got from Hillary Clinton was a harsh rebuke for his response to the Orlando shooting tragedy – notably the property mogul's comments on US TV that "There is something going on" with President Obama in his handling of the terror threat.
As well as criticising Obama's calls for tighter gun control in the interview on Monday with Fox News, Trump said of the President: "He doesn't get it or he gets it better than anybody understands – it's one or the other and either one is unacceptable."
Trump was a high-profile leader of the so-called "birther" movement, which believed Obama was born abroad and not eligible to be president, until he produced his Hawaii birth certificate to put the issue to rest. The New York billionaire has long denounced the President for failing to label attacks as "radical Islamic terrorism".
"Calling on another gun ban, this man has no clue." – @realDonaldTrump reacts to Obama's #OrlandoShooting remarks pic.twitter.com/YKRFJW7AAU

— Fox News (@FoxNews) 13 juin 2016
Is President Obama going to finally mention the words radical Islamic terrorism? If he doesn't he should immediately resign in disgrace!

— Donald J. Trump (@realDonaldTrump) 12 juin 2016
It is all a clear and shocking insinuation from Republican Trump, according to his likely Democratic rival for the White House, that President Obama is actually on the side of violent Islamist militants.
"What Donald Trump is saying is shameful," Hillary Clinton, Obama's former Secretary of State, told supporters in Pittsburgh on Tuesday.
"It is disrespectful to the people who were killed and wounded and their families. And it is yet more evidence that he is temperamentally unfit and totally unqualified to be commander in chief."
Trump's rhetoric is shameful.

It was one thing when he was a reality TV personality. It's another when he's running for president.

— Hillary Clinton (@HillaryClinton) 14 juin 2016
Euronews Washington correspondent Stefan Grobe said: "The Orlando killings are now dominating the presidential campaigns and the contrast between both presumptive nominees could not be starker, in style and in substance.
"Republican Donald Trump sought to project strength and lack of concern for the reaction to his provocative rhetoric. Trump seems to be calculating that there are political benefits of the rising fear of terrorism and that a majority of voters would applaud his 'make no prisoners' approach to national security. On the other hand, Democratic Hillary Clinton projected an image of calm and confidence, seeking to inspire trust and inclusiveness. The issue of terrorism will likely not go away. And the voters will have a clear choice."