Iraqi government forces advance against ISIL on multiple fronts
Comments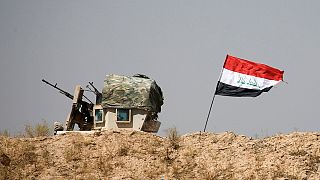 Iraq's army says it has made further advances into ISIL controlled territory, capturing a strategically important village south of the city of Mosul.
The latest advance comes as the US-led coalition intensifies its campaign against the group and its self proclaimed caliphate.
From Mosul in the North, government forces also continue to lay siege to Fallujah, located east of Baghdad.
On Sunday, the aid group Norwegian Refugee Council, said another 4000 people fled the ISIL controlled city after Iraqi troops captured a key road enabling a safe corridor.
Since May, more than 27, 500 civilians are estimated to have fled Fallujah.
One displaced woman in a refugee camp outside the city said: ''Daesh (ISIL) didn't supply us with any food and medication. We have reaped nothing from Daesh, only death and havoc. So many people were killed either by bombardment or starved to death. And those who remain in Fallujah are facing inevitable death.''
It is estimated that as many as 50,000 to 90,000 people may still be trapped in Fallujah, which fell to ISIL forces more than two years ago.