Iraqi forces gain ground in battle for Fallujah
Comments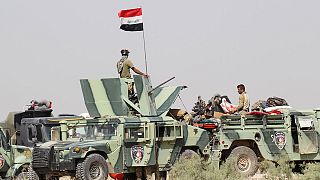 The Iraqi army and its allies are gaining ground in the battle for ISIL-held Fallujah, despite stiff resistance.
The western edge of the city has been secured, a senior commander is quoted as saying, and a fierce firefight is raging in the southern district of al-Shuhada.
Loud explosions and bursts of gunfire have been heard from the district, while aircraft believed to belong to the US-led coalition have been flying overhead.
The advance on al-Shuhada is the army's first inside the built-up area of Fallujah, after two weeks of fighting on the outskirts to complete the encirclement of the city, with help from Iranian-backed Shi'ite militias.
Fears continue however for the estimated 90,000 civilians who could still be trapped in Fallujah, with little access to food, water and healthcare, and no safe exit routes.
Up to 90,000 civilians trapped inside Falluja, UN official says https://t.co/QE1RFfVa3y

— The Guardian (@guardian) 8 juin 2016