Spain: election campaigns kick off as poll suggests big gains for Podemos alliance
Comments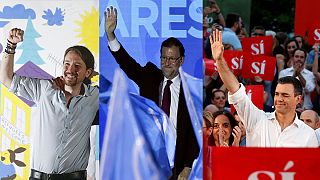 As Spain's general election campaigns kick off, an opinion poll on the June 26 ballot appears to show that the anti-austerity Unidos Podemos alliance will get the second-highest number of votes.
It seems set to obtain between 88 and 92 deputies – a big improvement on December's results.
Carried out by the Centre for Sociology Studies (CIS), the survey of 17,600 interviewees is considered the most reliable when it comes to predicting the outcome of the election.
According to the poll, the conservative Popular Party – which has been running the country under a caretaker government since December's inconclusive vote – will win the election, but fail to gain the majority needed to form a government.
The Unidos Podemos alliance's gains come at the expense of the Socialists, the poll suggests. The party comes in in third place. If the survey is proved correct, it will be the first time the party has dropped below first or second in over four decades of democracy.
While the liberal Ciudadanos – or Citizens – makes up the main four-party split, with an expected improvement in terms of votes, but a drop in the number of seats it will gain.
If the Popular Party wins without the majority, it will be forced to strike a coalition deal with the liberals and Socialists in order to remain in power.
The results of the survey appear to confirm a new period of political fragmentation and uncertainty in the country after more than 40 years of a stable two-party system.