Shooting at Dallas Airport sparks frantic scenes
Comments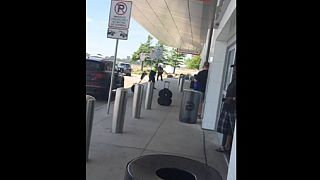 Passengers ran for cover amid terrifying scenes at Dallas Love Field airport in Texas on Friday.
Video posted to Instagram captured the drama as a police officer fired several times at a man involved in a domestic disturbance outside a baggage claim area.
The man is said to have attacked a woman's car with a rock and then charged at the police officer who intervened.
Police said the suspect appeared to be the father of the woman's children.
He was conscious when taken away by ambulance but his condition is unknown, Dallas Assistant Police Chief Randy Blankenbaker told reporters.
In the confusion, some people entered secure areas of the busy airport without proper screening – triggering delays as security checks were carried out.