Iraqi civilians suffer even after fleeing ISIL-held Falluja
Comments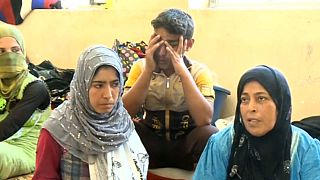 The United Nations has said it has disturbing reports of men and boys fleeing the ISIL-held town of Falluja being abused by armed groups working with Iraqi security forces.
The UN's human rights chief also cites allegations that some fleeing into territory held by the government and its allies have been executed.
The UN High Commissioner for Human Rights Zeid Ra'ad al Hussein said in a statement that there were "extremely distressing, credible reports that some people who survive the terrifying experience of escaping from ISIL, then face severe physical abuse once they reach the other side".
Zeid added that some abuses were apparently carried out in order to elicit forced confessions. Iraqi authorities had a legitimate interest in vetting people fleeing ISIL-held areas, but the process had to be carried out by legal organs, he said.
He described those escaping the "living hell" under ISIL rule and who were now suffering human rights violations in government-held territory as cases of "double jeopardy".
Many fleeing ISIL and the violence as the battle for the city intensifies have endured harrowing journeys before making it to aid camps such as the one at Amiriyat Al Falluja, 30 kilometres south of the city.
One woman, Um Mohannad, escaped at night with several families – and says the bombing around them was indiscriminate.
"The fighting was all around us. They didn't care. They bombed the way they wanted to. There was no consideration for the population. We asked to leave but they (ISIL) wouldn't let us," she said.
The International Committee of the Red Cross (ICRC) says in two days it has given out a month's supply of food, hygiene kits and other items to more than 4,000 people in this camp.
The charity has called for access to be opened up to Falluja, which has been under siege for two years.
"We know that thousands are stuck in the city centre of Fallujah and they are unable to leave. The humanitarian and medical situation is deteriorating and this is extremely worrying for us," said Malek Baklouti, responsible for delivering ICRC relief aid in Anbar Province.
Many have died trying to escape the city.
For those who survive and reach the camp their ordeal isn't over.
Temperatures reach well above 40 degrees Celsius during the day and most tents don't have fans or electricity.
Despite the supplies of food and water their needs remain immense.