Ramadan begins as thoughts turn to home for many Muslim migrants
Comments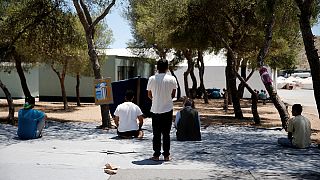 Despite the difficult conditions Muslim migrants living in a state-run camp near Athens began observing the Islamic holy month of Ramadan on Monday.
It is a time when believers abstain from eating and drinking during daylight hours.
For many including Abdul from Afghanistan it is their first Ramadan away from home.
"Everybody is missing his family, his country and this is very hard and so difficult for those people they're far away from their country, from their neighbours, from their relatives."
#Greece#migrants#refugees#pray on 1st day of#Ramadan at the port of #PiraeusAP_Images</a> / <a href="https://twitter.com/PGiannakouris">PGiannakourispic.twitter.com/5Ju96Hllic

— Petros Giannakouris (@PGiannakouris) June 6, 2016
Most of Greece's migrants have been stranded there after Balkan border closures blocked the migrant corridor to northern Europe. Abdoulam is a 24-year-old from Aleppo in Syria.
"This is my first day in this Ramadan. It's very hard because I start fasting like from four to nine (0400 to 2100). That is too long (a) time and it's very bad. I wish to see my family again in Syria, or in another country, because I miss them, especially my mother."
At sunset there is a call to prayer after which those observing Ramadan can break their daily fast.
But while some families managed to prepare a meal with a few meagre ingredients, there were many others who couldnt afford to buy food. For them hand outs from NGO workers are the only sustenance they have.