Millions of Muslims mark the beginning of Ramadan
Comments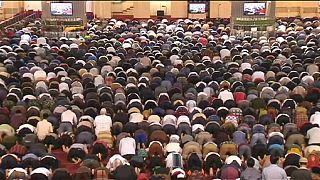 Millions of Muslims around the world are beginning to mark the holy month of Ramadan with the sighting of the new moon.
It is a time of contemplation, intense prayer and fasting from sunrise to sunset. Abstaining from food and drink is intended to bring the faithful closer to God, and remind them of the suffering of those less fortunate.
Palestinians in the West Bank city of Hebron hung Ramadan decorations and stocked up on food for the nightly feasts to break their fast.
Despite slow economic growth, resident Rajee Salaymeh remained positive saying, "While living under occupation and all what is happening around, the martyrs and injured people (from the conflict with the Israelis) we like to enjoy ourselves and feel happy during Ramadan and the holidays."
Israel has lifted some restrictions to allow worshippers from the West Bank and Gaza to enter the al-Aqsa mosque on Fridays, which has been the site of increased conflict in recent months.
While in Damascus, five years of civil war are clearly taking their toll on Syrians marking Ramadan.
"To sum up, psychologically, people are not happy. Secondly, the economic situation does not allow people to buy sweets and other things that they celebrate with," said one Syrian citizen.
At the end of Ramadan, Muslims will celebrate Eid-al-Fitr, gathering at mosques for prayer before spending the day with family.
This year it will fall around July 7, depending on the sight of the moon.