Ramadan 2018: the Islamic holy month explained
Comments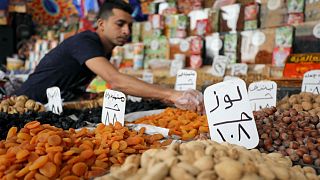 Ramadan, Islam's holy month, gets underway on Tuesday, May 15 and runs until Thursday, June 14. But what is it? And why is it so important to Muslims?
What is Ramadan?
Since Ramadan is part of the lunar calendar, the date on which it is celebrated on our Gregorian calendar changes each year.
Muslims wait for the new month's moon to appear before beginning the holy month.
They use it to focus on their god, Allah. Often called a "month of blessing", it is observed by over a billion Muslims worldwide.
It is a time of fasting during daylight hours, prayer and abstinence from sexual activity.
The fasting sees devotees have a pre-dawn meal called suhoor and then break the fast with a post-sunset dinner called iftar.
Young children, the sick, the elderly or women who are pregnant or menstruating do not have to fast.
Ramadan for Sunni Muslims has a different start date to that of the Shi'ite calendar. It depends on religious authorities' interpretations of the moon's phases.
Phases of the moon

The Night of Power (Laylat al-Qadr)
The "Night of Power" (Laylat al-Qadr) occurs within the last 10 days of the month. In the Qur'an, Islam's holy book, it is described as "better than a thousand months." This is believed to be the night on which a messenger sent from Allah first revealed the Qur'an to the Prophet Mohammad.
Muslims celebrate the breaking of the fast on the first day of the following month. Known as Eid al-Fitr, the festival usually lasts for three days.
Extra significance for Shi'ites
For Shi'ites, Ramadan takes on extra significance. It also marks the period during which they believe the first Imam was killed. Part of the Laylat al-Qadr is, therefore, a time of mourning for Shi'ites.
Ramadan and the workplace
ACAS
, the British government's information and advice service for employers and employees, has a
list of considerations to observe during Ramadan
.
It suggests non-Muslims should be understanding of someone taking part in Ramadan and be mindful that the effects of fasting are likely to be felt more in the afternoon.
"Colleagues may want to avoid offering food and drink to those who fast if sharing food with other colleagues, or eating during meetings," it adds.
Ramadan and technology
Ramadan became closely entwined with broadcast media in the 1960s. An Egyptian television programme called Riddles (Fawaziror) set Ramadan-related puzzles to solve and offered prizes to the winners.
It grew from there, from questions on proverbs, to other cultural riddles.
However, by 2010, it had failed to attract an audience outside Egypt and the programme's viewing numbers started to decline.
Ramadan and social media
Some mobile apps and websites are now dedicated to following the holy month. Most of the apps offer advice on when to start and break the fast, depending on a person's location in the world. Some also suggest prayers, or offer recipes for fast-breaking meals.