Abandoned Japanese boy Yamato Tanooka leaves hospital
Comments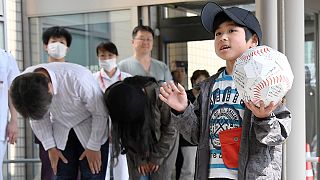 The Japanese boy lost for nearly a week after being abandoned by his parents for being naughty has left hospital to return home.
Yamato Tanooka, who is seven, was greeted by well-wishing crowds when he appeared with a paper baseball signed by hospital staff, along with his apologetic parents.
Police have not confirmed media reports saying they won't face charges.
The boy told reporters at the hospital entrance in the city of Hakodate on the northern island of Hokkaido that he was feeling better and was looking forward to going back to school.
A Japanese newspaper says Yamato meant to follow his parents' car when they left him in the forest but went the wrong way because he was "crying so hard".
Finding the woods "scary", he kept walking along the road until arriving at a military base, the Mainichi Shimbun newspaper reported.
There he took refuge in an unlocked building for six days with no food, only water from an outdoor tap.
He was found safe by a soldier around five kilometres from where he was last seen, after a search that captured international headlines – and sparked a debate about parental discipline.