Is ISIL's de facto capital under threat? Syrian army 'penetrates Raqqa Province'
Comments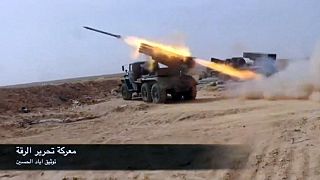 ISIL's de facto capital in Syria appears to be under threat.
The British-based Syrian Observatory for Human Rights (SOHR) claims that Syrian government troops – backed by Russian air strikes – have advanced into Raqqa province for the first time in almost two years. The forces are said to be advancing towards Raqqa, home to ISIL's de facto control centre.
At least 26 ISIL fighters and nine Syrian government and allied troops were killed in the conflict, according to the SOHR.
It is the third big offensive against the militant group in recent days, with additional assaults from Iraqi forces, US-backed fighters, Kurdish forces and various rebel groups across ISIL's self-proclaimed caliphate in Syria and Iraq.
One such campaign started in the Mediterranean. US fighter jets took off from there to launch air strikes in support of operation "Inherent Resolve" against the jihadist group.
Amateur video later emerged purporting to show the aftermath of bombings by US-backed rebels in al-Sakhour, in Aleppo Province.
The forces claim they are making rapid advances against ISIL, and the offensive is crucial in denying the group access to the Turkish border and, therefore, supplies of arms and food.