Civilians flee Fallujah as battle for besieged Iraqi city intensifies
Comments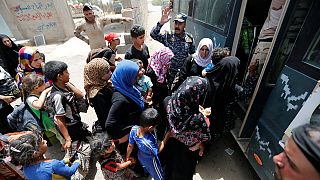 In Iraq, civilians trapped inside Fallujah have continued to flee over the weekend.
It comes as the battle for the besieged city showed signs of entering a new phase with Iranian backed Sh'ite militia threatening to storm the ISIL stronghold once residents leave.
Up to 50,000 civilians are still stuck in Fallujah which lies just 50 kilometres west of Baghdad.
"We were hiding in a house for several days, trying to avoid Daesh (Islamic State group) militants. If they'd have found us they would have cut off our heads. Thank God we managed to get out, we are all safe now," said Um Firas, a fleeing Fallujah resident
The threat by Sh'ite militia to retake Fallujah appears to backtrack on earlier statements that they would leave the task to the Iraqi army.
In Baghdad, the government has blamed ISIL for the slow progress by preventing civilians from leaving and using them as human shields.
Aid groups estimate the violence around Fallujah has displaced more than 12,000 people in the past two weeks.