Russia concerned about safety of workers delivering UN aid to Syria
Comments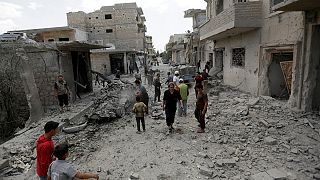 The United Nations is finalising plans to airlift humanitarian aid to 19 besieged towns in Syria but Russia has expressed concern about the safety of aid workers, according to a senior UN official.
Deputy special envoy for Syria Ramzy Ezzeldin Ramzy said the Damascus government needed to approve the operation.
"It's not just the Russians who are concerned about the security, quite frankly," said Ramzy, "but it is an issue that has to be resolved in a way that allows this to go ahead, and as Jan (Egeland) said, the consent of the government is necessary to ensure the security, but it may not be sufficient. There are other groups scattered around Syria as you know who may have the capability of rendering this operation rather dangerous so, these things have to be taken into account."
Ramzy said that Russia took tremendous efforts to make sure a convoy carrying humanitarian aid reached the besieged Damascus suburb of Daraya on Wednesday (June 1), reported Sputnik.
Russia's defence ministry said a temporary ceasefire, or "regime of calm," had taken effect from Wednesday for 48 hours in the town to allow humanitarian aid to be distributed to thousands of civilians in dire need.
The Chairman of the UN humanitarian task force said a further aid delivery to Daraya scheduled for Friday may be delayed but there were clear indications it would go within days.
Syria is working with a UN representative to find ways to deliver food and medical aid to all Syrian people isolated by the country's civil war, a top advisor to President Bashar al-Assad told a conference on Thursday (June 2) via Skype from Damascus, reported Reuters news agency.
.UN</a> interagency humanitarian mission reached the city of <a href="https://twitter.com/hashtag/Daraya?src=hash">#Daraya</a> for the 1st time in four years <a href="https://twitter.com/hashtag/Syria?src=hash">#Syria</a> <a href="https://t.co/ERpHD8RpwX">pic.twitter.com/ERpHD8RpwX</a></p>&mdash; UNICEF MENA (UNICEFmena) June 2, 2016