Syria: Pressure grows for air drops of humanitarian aid to besieged areas
Comments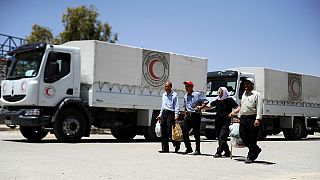 The first humanitarian aid convoy in four years has entered the rebel-held Syrian town of Darayya near Damascus, besieged by government forces.
But food was not among the relief delivered on Wednesday, despite reports of children facing starvation.
WATCH @UN convoy entering #besieged town of #Daraya#Syria for the 1st time in years w/ @UN@ICRC_sy@SYRedCrescentpic.twitter.com/Cb7H35vRPQ

— OCHA Syria (@OCHA_Syria) 1 juin 2016
Hence plans for air drops being made by the World Food Programme.
The US wants Russia to do its part to ensure help gets through.
"While the World Food Programme planning continues, we urge and we expect Russia to use its influence with the regime to fulfil commitments already made for continued ground delivery of aid and if needed supporting international air operations going forward," said
US State Department spokesman John Kirby.
.@statedeptspox Kirby comments on delivery of humanitarian assistance to #Moadamiya and #Daraya in #Syriahttps://t.co/YibIhIznOV

— Department of State (@StateDept) 1 juin 2016
But air operations of another type continue to make life hell for civilians in Syria, with reports of more barrel bombs being dropped on Aleppo.
Peace talks to try to put an end to the five year old conflict remain at a standstill.
The UN humanitarian agency OCHA said the convoy to Darayya consisted of medicine, vaccines, nutritional items (not food) and baby milk.
Medical teams vaccinating a baby in #Daraya as part of the humanitarian aid we delivered today #Syria@SYRedCrescentpic.twitter.com/1E5yEoQL1P

— OCHA Syria (@OCHA_Syria) 1 juin 2016
A UN spokeswoman said food parcels and wheat flour were sent to the rebel-held town of Mouadamiya.
The UN Security Council will hold a special meeting at the end of this week to discuss aid deliveries to besieged areas of Syria. The US, UK and France have called for air drops to go ahead.
On May 17, members of the International Syria Support Group agreed in Vienna that the UN World Food Programme should air drop food, medicine and water to Syria's besieged communities starting on June 1, if humanitarian access was denied by either side.