Thailand raids Tiger Temple removing big cats
Comments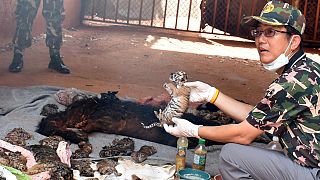 A raid on Thailand's Tiger Temple has uncovered 40 tiger cub carcasses, as authorities swoop on the controversial attraction.They were found stuffed in a freezer at the Buddhist site Wat Pa Luangta Bua Yannasampanno which is believed to be involved in animal cruelty and trafficking.
Wildlife officials removed 40 of 137 big cats held at the privately-run attraction, and planned to return to take the rest and re-house them in state-owned sanctuaries.
The temple located 140km from Bangkok started keeping and breeding tigers 15 years ago and became famous as a place where visitors could pet and take selfies with the big cats.
Wildlife activists have accused the temple of supplying big cats to the black market. Former workers claimed the tigers were beaten, ill-fed and kept in small concrete cages. Some visitors reported animals appeared drugged. The monks deny all charges.
The site has been closed to the public since the raid.