Hugh Herr wins Princess of Asturias Award for Technical and Scientific Research
Comments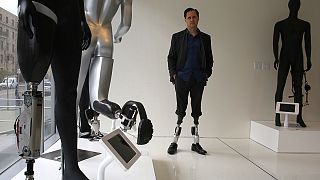 America's Hugh Herr received the Princess of Asturias Technical & Scientific Research award in Oviedo on Wednesday.
Eight prizes are awarded annually, with the prize-giving ceremony later in the year that gathers the winners here at the Hotel de La Reconquista.
"Hugh Herr received this award because he is the leader of the bionic age," explained the President of the jury Pedro Miguel Echenique Landiribar. "His prosthetics mimic the functions of real limbs and have helped many."
A double amputee himself, Hugh Herr is responsible for breakthrough advances in bionic limbs that provide greater mobility and new hope to those with physical disabilities.
The 51-year-old's computer-controlled knee was named one of TIME magazine's Top Ten inventions in 2004 while his robotic ankle-foot prosthesis was also added to the same list three years later.
After getting caught in a blizzard while mountain climbing on Mount Washington in January 1982, Hugh Herr suffered severe frostbite and had both legs amputated below the knee.
He now heads the Biomechatronics research group at the MIT Media Lab in Massachusetts.
American bionic scientist Hugh Herr wins prestigious Spanish award fpa</a> <a href="https://twitter.com/medialab">medialabhttps://t.co/twASwxWD5mpic.twitter.com/uu5WvrI8cP

— The Local Spain (@TheLocalSpain) 1 June 2016