Fresh shelling in Syria kills 42 civilians, says monitoring group
Comments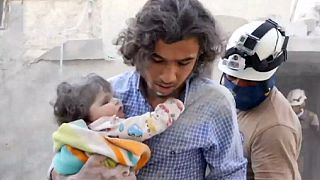 The Syrian Observatory for Human Rights (SOHR) monitoring group says forty-two civilians have been killed in aerial raids in the north of Syria.
There are conflicting reports about who conduced the attacks.
Video footage showed volunteer group the White Helmets rescuing people after a fresh shelling in Aleppo.
Battle for Manbij
US-backed fighters have launched an offensive to retake a crucial pocket of land from ISIL near the Turkish border in Manbij .
The US says mostly Syrian Arab fighters are involved in the battle for Manbij, with American advisors away from the frontline.
But the SOHR says mainly Kurdish militia are taking part. It says US led air strikes there have killed 15 civilians.
Ramadan truce
Meanwhile Syria's main opposition has proposed a nationwide truce during the Muslim holy month of Ramadan which begins next week.