Delays and cancellations as French unions begin indefinite transport strike
Comments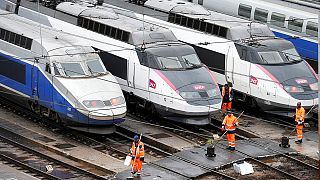 SNCF

workers begun unlimited strike
Aviation unions to walkout June 3 to 5
Governtment calls for talks with

CGT
French unions have upped the ante and launched an indefinite strike, targeting national and regional rail transport in opposition to government labour reforms.
Aviation unions are also set to add to the travel misery by staging a walkout from June 3 to 5, likely to cause cancellations and delays to flights.
France braces for rail and airport strikes https://t.co/Uf2ZDGrpdDpic.twitter.com/kWgUPLHGLf

— dwnews (@dwnews) May 31, 2016
Those on the sharp end are far from happy. One women said she understood the action and that those taking it had legitimate demands but it was dragging on too long.
And another refused point blank to see the unions' point of view, "there are others worse off and without all their the benefits," she said.
SNCF said the strike was expected to halt 40 percent of high-speed TGV trains and up to two-thirds of services on other lines and disrupt some Thalys services to Belgium and the Netherlands but not Eurostar trains to London.
In parallel to the transport strikes there are also piecemeal stoppages at waste recycling dumps and road transport hubs.
Strikes have halted several oil refineries but oil industry federation chief Francis Duseux said car fuel shortages seemed to be easing with one in five petrol stations short of fuel.
French rail strikes raise fears for Euro 2016 https://t.co/zcmXe3nPalpic.twitter.com/NwNJwt8Ezc

—

AFP

news agency (@AFP) May 31, 2016
As far as the government is concerned, it is standing firm, that is within reason. Socialist Prime Minister Manuel Walls has refused to drop key elements of his reforms such as a clause that gives firms more scope to agree in-house deals on pay and conditions, but he has said he is open to suggestions.
Valls also wants the hardline CGT union which is leading the rail strike to propose ways out of the confrontation.
It reflects a sense of urgency as France is due to host Euro 2016 football tournament in less than two weeks.
Key points in new labour law
* The 35-hour week remains in place in general, but companies are to be able to negotiate their own deals over hours worked with local trade unions. * The new law eases conditions for laying off workers, which is strongly regulated in France. The aim of this is to encourage companies to take on more people if they know they can shed jobs in case of a downturn. * Firms are to be given greater freedom to reduce pay and to have more flexibility over holidays and special leave.