Freed Ukrainian pilot Savchenko addresses parliament as an MP
Comments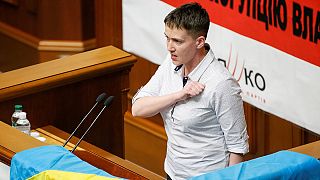 Ukrainian military pilot Nadiya Savchenko has made a strong impression on her first day in parliament.
The 35-year-old helicopter navigator, whose resistance to imprisonment in Russia has made her a national hero, received a standing ovation from her peers as she took to the podium.
She wasted no time in flexing her political muscles using her first address to call for the release of other Ukrainians held in Russia. "I won't let you who sit in these seats forget about those boys who laid down their lives for Ukraine and continue to die for their country," she told parliament before singing the national anthem.
She then took down a poster with her picture, which had been on the podium for months, and replaced it with the images of 31 people who she called 'prisoners of the Kremlin'.
Savchenko's rise from army member to MP has been fairly swift. She was captured and taken prisoner in June 2014 after joining a volunteer force to fight pro-Russian separatists in the east of Ukraine. She was elected an MP in 2014, while in Russian custody but was released in a prisoner swap last week.
Her political ambitions could go even further, as she said she would serve the country in any capacity, including that of president.