Turkey: Muslim families should forget birth control says Erdogan
Comments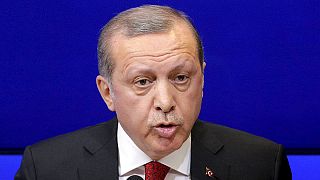 He has already condemned abortion, called birth control "treason", and told women they should have at least three children.
Now Turkish President Recep Tayyip Erdogen has again turned his fury on family planning, calling on pious Muslims to go forth and multiply.
"We will increase our generations," he said in a speech in Istanbul, broadcast live on television on Monday.
"They talk about population planning, birth control …no Muslim family can have such an approach. We will follow the path and advice of God and our beloved prophet."
No Muslim family should engage in birth control: Erdoğan https://t.co/CfDtIOzs0Bpic.twitter.com/5pCgUk0JSQ

— Hürriyet Daily News (@HDNER) 30 mai 2016
The president's comments received warm applause from his audience at a youth and education foundation.
But Erdogan, a devout Muslim who founded Turkey's ruling Islamist-rooted AK Party, has been criticised by women's groups for remarks like this and for saying that he does not believe in equality of the sexes.
A march in support of women's rights in Istanbul earlier this year, ahead of International Women's Day, ended in violent clashes.