Germany: Storm leaves several dead including teenage girl and firefighter
Comments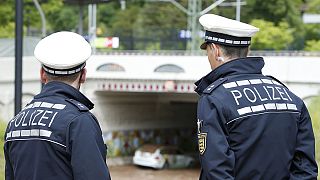 At least four people have been killed in a storm in southwest Germany.
The state of Baden-Württemberg is in shock after Sunday night's deluge.
Among the dead are a volunteer firefighter and the person he was trying to rescue in the town of Schwäbisch Gmünd near Stuttgart.
Separately, a man died in an underground car park flooded with rainwater in the town of Weißbach.
And also in Baden-Württemberg, a 13-year-old girl was killed after being hit by a train as she sheltered from the downpour under a railway bridge.
Local authorities say several people were injured in the storm. Some motorists had to be rescued after their cars were completely submerged.
VIDEO - Dramatic flood images from Braunsbach in #Germany's southwest. https://t.co/J4IvPi2L9I

— DW - SciTech (@dw_scitech) 30 mai 2016
It follows lightning strikes in southwest Germany and in France on Saturday that left nine people seriously hurt.