Israel loses second cabinet minister in a week
Comments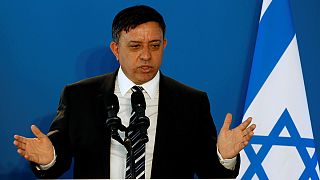 Second minister in a week resigns
"I was unable to swallow the frog" – Gabbay
Defence Minister resigned on Wednesday

What is happening?
The inclusion of an ultra-nationalist politician in Israel's governing coalition is having a domino effect on the country's government.
I was unable to swallow the frog that landed this week
The centrist environment minister Avi Gabbay has now announced he is stepping down in protest.
#IsraelInside#AviGabbay#EnvironmentalProtectionMinistry Kulanu minister resigns over coalition deal with Liberman https://t.co/K90iG5M12w

— Israel News (@IsraelNewsNow) May 27, 2016
It is the second resignation from the Israeli government in two days.
Why has Gabbay resigned?
Here is what he said to the media:
"I was unable to swallow the frog that landed this week (the departure of General Moshe Ya'alon) and appointment of Avigdor Lieberman as defence minister, a year after I was appointed."
"In my eyes, this is an extraordinary move even for the cynical world of politics."
"In a country surrounded by enemies, the defence minister is not just any minister."
Why did Ya'alon resign?
On Wednesday, Moshe Ya'alon confirmed his resignation as Israeli defence minister in a televised statement from defence headquarters in Tel Aviv.
Israeli Defense Minister Moshe Yaalon resigns and warns of rising 'extremism' https://t.co/OhQsOWonRjpic.twitter.com/tODXywos5f

— The Atlantic (@TheAtlantic) May 20, 2016
Here is what Ya'alon said:
"To my great regret, I have recently found myself in difficult disputes over matters of principle and professionalism with the prime minister, a number of cabinet members and some lawmakers."
The former defence chief described Israel as "overrun by extremist and dangerous elements".
He said this was also felt within the governing Likud party – a hint, some say, he might be considering a political defection.
"I have no intention of leaving the public and political life. In the future I will return to contend for Israel's national leadership," Yaalon added.
Prime Minister Benjamin Netanyahu's office did not immediately respond to the comments.
Was a replacement found?
Yes, almost immediately.
Prime Minister Benjamin Netanyahu offered the role to far-right politician and long-term rival, Avigdor Lieberman, who accepted.
Some commentators say Netanyahu's offer of a cabinet post to Lieberman only came about after talks failed on bringing centre-left opposition leader Isaac Herzog into the government.
.natansachs</a> analyzes the shocking appointment of Avigdor Lieberman as minister of defense: <a href="https://t.co/F77hOkkBet">https://t.co/F77hOkkBet</a></p>&mdash; Brookings FP (BrookingsFP) May 26, 2016
Commentators say this is aimed at strengthening Netanyahu's governing coalition which now has:
Six parties
control of more than 66 of parliament's 120 seats
an increase from a razor-thin majority of 61

How important is the role of defence?
It is a key position in the Israeli government.
The country is perennially on a war footing.
It also runs civil affairs in the West Bank, where Palestinians fighting for statehood live in a tense and often violent cohabitation with Jewish settlers.
Who is Avigdor Lieberman?
Avigdor Lieberman: From nightclub bouncer to Israel's new doorman https://t.co/ze57LnLFPopic.twitter.com/o6mUwMtSoK

— Middle East Eye (@MiddleEastEye) May 26, 2016
Born 1958, Chișinău (capital of Republic of Moldova)
Lieberman is well-known for his hawkish talk against Palestinians, Israel's Arab minority and Egypt (an important regional security partner for Israel).
Analysts describe him as inexperienced militarily.