Iraqi units advance on ISIL-held Fallujah
Comments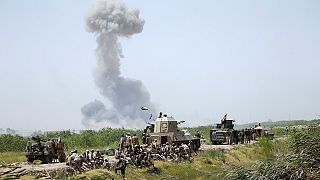 Iraqi government units and Shia paramilitary allies are closing on Fallujah as the battle intensifies to retake the ISIL-held city.
As forces advance, many civilians remain at risk. NGOs estimate up to 50,000 people may still be trapped and fear the Islamist militants will use them as human shields.
Yousif al-Kilabi, Security spokesperson for Popular Mobilisation Forces said, ''The fundamental principle of the Fallujah battle is how to protect civilians inside the city. The families are just like captives to ISIL. Our priority in this battle is to protect civilians and rid them of ISIL.''
The battle for Fallujah is seen as key to liberating the ISIL stronghold of Mosul, Iraq's second city. At the same time the US-led coalition is fighting across the border to free the Syrian city of Raqqa from ISIL control.