EgyptAir MS804: First images of recovered debris released
Comments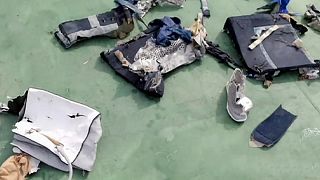 The hunt for missing EgyptAir flight MS804 intensified on Saturday as Egypt's military released a video of the first debris found during its search in the Mediterranean Sea.
Life jackets, parts of seats and luggage were among items on display – the search has also reportedly recovered body parts.
For the moment, It remains unclear whether the aircraft's all important black boxes' have been located, despite some reports claiming they have.
Egypt and five other countries continue to search a wide area in the eastern Mediterranean where the plane plunged killing all 66 passengers and crew on board during its scheduled flight from Paris to Cairo.
Investigators have confirmed smoke was detected in various parts of the Airbus 320's cabin a few minutes before it disappeared.
The cause of the crash still remains a mystery, however, with France's Foreign Minister Jean-Marc Ayrault saying on Saturday ''all hypothesis were being examined and none favoured.''
Despite theories that a bomb may have been smuggled on board, no terrorist group has so far claimed responsibility.