Airport security under the spotlight after Egyptair crash
Comments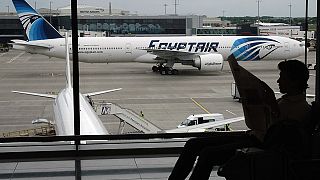 The search for answers to the Egyptair crash turns to airport security. Investigators have been trawling through surveillance footage and running background checks on those who boarded the flight at Paris Charles de Gaulle airport to see if there had been a lapse.
"A 100 per cent perfect and reliable system does not exist," remarked Sylvain Prévost, trainer in air transport security for ASTC (Aviation Security Training Center). "The question today is: if something did happen at Charles de Gaulle, then there must have been people colluding on it, because now it's extremely difficult to penetrate airport security."
The Airbus 320 spent just over an hour on the tarmac in Paris, but had also passed through airports in Eritrea and Tunisia the same day, raising further questions over airport security.
Though many are shaken by the news, one passenger said he has confidence in Egyptair, but added that like many others he would like to know the reason behind the tragedy.
In the absence of answers, European authorities are reviewing security procedures in order to reassure passengers that flying is still one of the safest ways to travel.