EgyptAir flight: 'smoke detected in cabin' before plane disappeared
Comments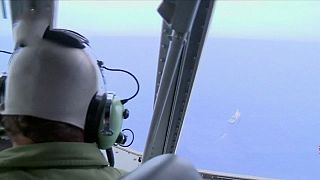 Smoke was detected in the cabin in the final moments before EgyptAir flight MS804 crashed, according to reports on The Aviation Herald.
The air industry website mentions three independent sources which passed on data from the Airbus 320's real-time reporting service ACARS. It indicated smoke in the toilet, followed by the electronics before communications were lost. Though experts cautioned that this does not necessarily mean a fire occurred.
Adding to the mystery, a large oil slick has been spotted by European Space Agency satellites in the area where the plane disappeared with 66 people aboard, though there is no confirmation it is from the flight.
The search is now focused on finding the black box flight recorders after the Egyptian navy said debris had been found in the Mediterranean. French teams scouring the 130 nautical miles of search area pointed out the difficulties of the task.
"In this area we see a lot of debris but we don't know if it is linked to the airplane that disappeared or if it was already there before," explained one officer.
With the most important part of the puzzle missing, experts say the new clues do not point to a clear explanation. While Egypt suspects a terror attack, a mechanical fault cannot be ruled out.