Iraq: Baghdad Green Zone protests turn violent as security forces open fire
Comments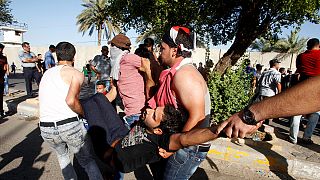 Iraqi protesters who stormed into Baghdad's protected Green Zone were fired on by security forces.
Claims by eyewitnesses were confirmed by the military, according to an announcement on state television.
Dozens of people were injured from tear gas and live fire, the witnesses said.
''They (the security troops) fired teargas bombs against us. It is something bad. They even shoot us with bullets. They used stun grenades,'' said Jabir Awad, one of the protesters.
The protesters included supporters of the influential Shi'ite cleric Moqtada al-Sadr. He backed the demonstrators and issued a statement cursing the government.
It imposed an unlimited curfew in response to the violence. The Green Zone houses parliament, government buildings and many foreign embassies.
A flash on state television said the military had regained "complete control" after security forces opened fire.
The protesters, angry at parliament's failure to approve a non-political cabinet as part of an anti-corruption drive, first stormed the Green Zone three weeks ago.
protesters at the Green Zone a little while ago before being disbursed by ISF tear gas & gun fire #Baghdadpic.twitter.com/yMvL6ApygP

— susannah george (@sgreports) 20 May 2016