Libyan forces advance on ISIL stringhold of Sirte
Comments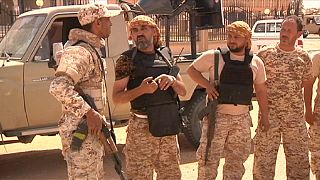 Libyan forces claim to have pushed back ISIL fighters towards their stronghold of Sirte on the Libyan coast.
Despite losing 30 of their own men, the Libyan troops, who are loyal to the country's new unity government, say they will shortly launch further operations to retake Sirte itself.
This latest advance comes just a day after the military forces retook Abu Grain and several other small villages in the area.
Western powers are counting on the new government to unify Libya's political and armed factions to take on the Sunni extremists .
Rights group documents #ISIS atrocities in Libyan city of #Sirtehttps://t.co/psdKb80mggpic.twitter.com/agh05Ue0ku

— Al Arabiya English (@AlArabiya_Eng) May 18, 2016
A report published on Wednesday by campaign group Human Rights Watch found that Islamic State in Sirte had unlawfully executed at least 49 people accused of offences including spying, sorcery, and blasphemy over one year from February 2015.
It quoted a military intelligence officer in Misrata as saying Islamic State had some 1,800 fighters in Sirte and that at least 70 percent of them were foreign.
Some two-thirds of the city's residents have fled, the report said.