Soccer star Mesut Ozil has kickabout with young Syrian refugees
Comments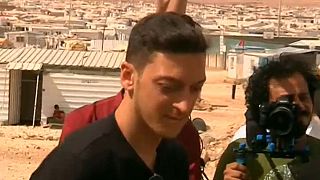 Young Syrian refugees in Jordan have been having a kickabout with Germany and Arsenal soccer star Mesut Ozil.
He has dropped into Jordan's largest camp – Zaatari – to have a look at the conditions.
It is hoped it will boost morale and motivation among the children here.
"I learned some moves from him. This is the first time I've played with a famous star. I hope to become a star too," said Abdul Raouf Khaled.
Enfal Emad al-Jallam, a 13-year-old girl, added: "My hobby is football, I love it so much. I hope I'll always be able to play football and then become great at it. I thank my teachers for training me."
Ozil helped Germany win the World Cup in 2014 and he is among the country's preliminary 27-man squad for Euro 2016.
A big name in the game, who seems to have left a lasting impression on the young refugees at Zaatari.