'Queen backs Brexit' headline was significantly misleading, regulator rules
Comments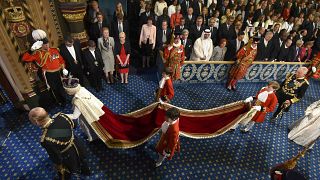 Britain's Queen Elizabeth has unveiled the government's priorities during the traditional state opening of parliament.
Prime Minister David Cameron is hoping to press ahead with the so-called social reform agenda after the EU referendum.
"My government will hold a referendum on membership of the European Union. Proposals will be brought forward for a British bill of rights," said the monarch.
"My ministers will uphold the sovereignty of parliament and the primacy of the House of Commons."
Meanwhile, it has been ruled that a headline in Britain's Sun newspaper claiming that the "Queen backs Brexit" was significantly misleading.
The March report has been investigated by a press regulator after Buckingham Palace complained.
The Sun stands by its story.
Press watchdog IPSO says Sun 'QUEENBACKSBREXIT' headline 'significantly misleading' https://t.co/jNYWobhpNzpic.twitter.com/YWWbNNbjqZ

— Press Gazette (@pressgazette) 18 May 2016
The suggestion that the monarch was in favour of Britain leaving the EU would potentially be an important factor in the debate running up to the June poll.
Under her constitutional role, the 90-year-old queen must remain politically neutral.