More than 70 killed in bloody day of violence in Baghdad
Comments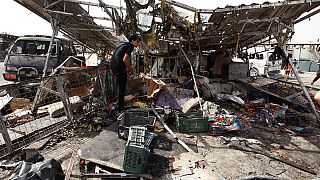 More than 70 people have been killed and over 140 wounded in a day of attacks in Baghdad.
A car bomb went off in the Shi'ite Sadr City on Tuesday and another vehicle was blown up in the mixed Shi'ite-Sunni neighbourhood of al-Rasheed, south of the capital.
Meanwhile, the so-called Islamic State militant group said it was responsible for a suicide bombing in a market place in the northern mainly Shi'ite Muslim district of al-Shaab.
The security official in charge of the area was later arrested, on the orders of Iraq's prime minister.
Attacks claimed by ISIL last week killed more than 100 people, the highest death toll in so few days so far this year.
The violence has sparked anger and street protests over security failures.
With the latest death tolls, fears are growing that Baghdad could relapse into the bloodletting of a decade ago, when sectarian-motivated suicide bombings killed scores of people every week.
It has all piled pressure on Prime Minister Haider al-Abadi, who is struggling to solve a political crisis or risk losing control of parts of Baghdad to ISIL militants. Away from the capital, Iraq's military is waging a counter-offensive against the group.