Dozens killed in Baghdad blasts
Comments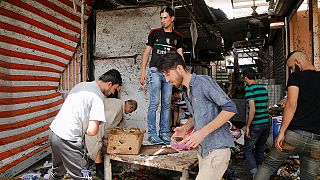 Two blasts have rocked the Iraqi capital Baghdad – killing dozens of people and injuring more than 90.
A suicide bomber – believed to be a woman – struck in a marketplace in the northern district of al-Shaab.
And a car bomb exploded in the southern neighbourhood of al-Rasheed.
There has been no immediate claim of responsibility.
The blasts follow the bloodiest spate of attacks in and around the capital so far this year.
The so-called Islamic State said it was behind bombings last week that killed 100 people and sparked against the government over security.