Eleven dead in attack on Iraq gas plant
Comments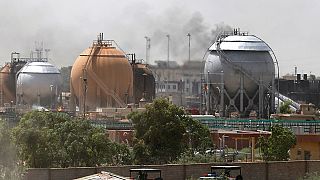 An attack on a gas plant north of Baghdad has left 11 people dead, according to Iraqi officials.
Militants from ISIL reportedly began the assault in the early hours of the morning, when a car bomber targeted the main gate of the facility in Taji, allowing another vehicle to enter with six militants who launched the assault which left 27 troops wounded.
Three gas storage containers were set alight before security forces could bring the situation under control.
"The situation was controlled by the security troops through detaching pipes that feed gas to the tank. Security guards were there. They killed two suicide bombers and three other suicide bombers blew themselves up," Brigadier General Saad Maan, Iraqi Interior Ministry spokesman announced to journalists.
It comes after multiple car bombings in the capital which killed 93 people.
ISIL is stepping up attacks after losing ground in Iraq, according to authorities the Islamist group controls 14% of the country, down from 40% in 2014.