UN accuses Syrian opposition groups of blocking aid
Comments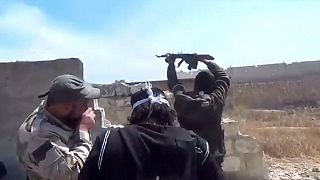 Fighting has flared up again, just hours after a ceasefire ended in the Syrian city of Aleppo.
It is claimed Syrian government forces have been battling rebels north of the city.
The fighting was apparently focused around the rebel-held Handarat area.
There was no immediate word on an extension of the truce, brokered by the US and Russia.
Meanwhile, it is reported that an aid convoy has been refused entry to Daraya, a suburb of Damascus besieged by pro-government forces.
The United Nations has expressed dismay about the lack of access to such areas – and says opposition groups are to blame too.
"It is not just the government which are creating problems," said Jan Egeland, UN humanitarian aid coordinator for Syria.
"We have had an assessment mission, our plan to go in the besieged areas, Foua and Kafraya, besieged by armed opposition groups. The mission was not allowed in. A number of excuses were made regarding security and what not."
The supplies bound for Daraya, where children made an SOS message last month, would have been the first to arrive in more than three years.
The suburb's population was more than 70,000 before the war, but now it could be down to four thousand.