Hezbollah confirms death of commander Mustafa Badreddine in Syria
Comments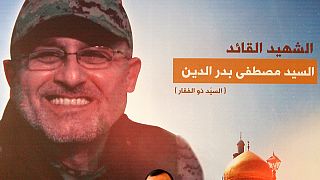 Mustafa Badreddine, believed to have been Hezbollah's most senior figure in the Syrian war, has been killed in an explosion in Damascus.
The Lebanese Shi'ite group confirmed the commander's death. Backed by Iran, it is supporting Syrian President Bashar al-Assad in the conflict.
Lebanese media initially claimed Israel was behind the attack, while Trade Minister Hussein Haj Hassan vowed to target the Jewish state and some Sunni Muslims.
"The message is that a martyred commander has joined the convoy of martyred leaders. He boosts us in his martyrdom with strength, glory, will and intention to continue the fight against the Zionist enemy and the takfiris until victory is achieved, God willing," he said.
Israeli authorities have yet to officially comment on the killing.
Little is known about Badredinne. He was indicted by United Nations prosecutors for allegedly coordinating events leading to the 2005 assassination of Lebanon's Prime Minister Rafik Hariri. However, he was never brought before the courts and records described him as an "untraceable ghost."