Hungary wins cooking competition Bocuse d'Or Europe
Comments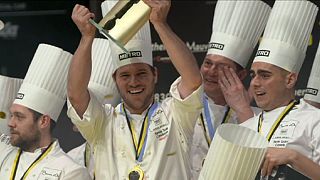 Hungary has been named the winner of the Bocuse d'Or Europe, a proud moment for the host country.
The Bocuse d'Or is one of the most prestigious cooking competitions in the world and for the chefs taking part, a high point of their careers.
Chefs from 20 countries battled it out in Budapest on Tuesday and Wednesday. The 11 best will go forward to the world final in Lyon in January 2017.
When asked how much work and training was behind his success, winner Tamás Széll said: "Four and a half months and many many years."
#Bocusedorpic.twitter.com/wSGB60xxiS

— Bocuse d'Or Official (@Bocusedor) May 11, 2016
Each team had to prepare two dishes using deer, stertlet (a type of sturgeon), and the 'secret ingredient' of tarragon, which chefs were told about just the day before.
Euronews correspondent in Budapest Beatrix Asboth explained that for the first time in the history of Bocuse d'Or, the organising country was the source of the central ingredients for both main dishes – meat and fish.
The event is often referred to as the culinary equivalent of the Olympic Games. Supporters from across Europe were in the audience to cheer their chefs on.
"This is a competition about real chefs, this is no reality TV, this is the real thing like a sporting event, everything is live in front of the audience," said honorary president Jérome Bocuse.
Preparations are already underway for the main event in Lyon in January 2017, where the successful European teams will join Latin and North America and Asian ones.
See also:Budapest hosts Bocuse d'Or European competition as city's culinary fame grows
Committee waiting for the start! pic.twitter.com/jmUBqYB308

— Bocuse d'Or Official (@Bocusedor) May 11, 2016