Brazil's Senate votes to impeach the president
Comments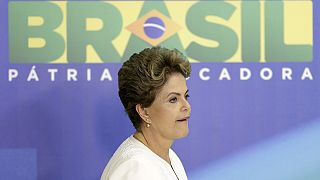 Brazil's Senate has voted 55-22 to impeach the South American giant's first woman president.
President Dilma Rousseff is accused of using accounting tricks to hide large budget deficits.
Brazil president Dilma Rousseff suspended from office as senate votes to impeach https://t.co/PElgDxZXq0

— The Guardian (@guardian) May 12, 2016
Rousseff will be suspended and replaced for up to six months by Vice President Michel Temer pending a trial in the Senate.
The trial will determine whether Rousseff can serve out her second term, or whether her ally-turned-enemy, Temer, will remain in the top job through the December 2018 end of the term.
Brazil's Senators vote 55-22 to try President Dilma Rousseff for breaking budget laws https://t.co/2qAjgyWCtbpic.twitter.com/UpeA7VgmOA

— euronews (@euronews) May 12, 2016
The result represents a victory for the pro-impeachment camp.
It was significantly higher than the simple majority of 41 votes needed to suspend her.
It sends a signal that Rousseff faces an uphill battle to return to power.
Thursday's vote capped a marathon session in the Senate that lasted more than 20 hours.
Impeachment proceedings against President Dilma #Rousseff: the timeline of the political turmoil in #Brazilhttps://t.co/KsavoUv8eh

— euronews (@euronews) May 11, 2016