Spanish actress Nuria Espert wins Asturias Award for the Arts
Comments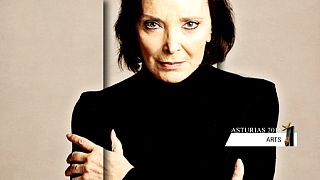 The first of the annual Princess of Asturias Awards has been won by the Spanish actress, theatre director and stage designer Nuria Espert.
The president of the jury José Lladó y Fernández-Urrutia anounced the winner of the Asturias Award for the arts in the Spanish city of Oviedo, the capital city of the Principality of Asturias.
"Nuria Espert is one of the most eminent figures on the world stage. It has internationally projected Hispanic literature and theatrical creation, classic and contemporary, over a long career that has led to success on stages around the world," said Fernández-Urrutia.
Last year Nuria Espert famously played the role of Shakespeare's King Lear in the Catalan language.
Previously she performed in other Shakespearian plays including 'Romeo and Juliet' and 'Julius Caesar.'
The Princess of Asturias Awards have been described as Spain's equivalent of the Nobel Prizes. They cover a range of achievements in the arts, humanities, science and public affairs.
Nuria Espert will receive the Asturias Award for the Arts at a ceremony later this year.