Life for the displaced in Yemen - an exclusive Euronews report
Comments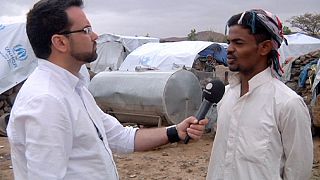 Since March 2015 Yemen has been engulfed in an armed conflict between the Huthi militia and allies of President Abd Rabbu Mansour Hadi supported by the Saudi Arabian-led coalition. The civilians are trapped in the middle, a "silent" humanitarian crisis is going on.
Euronews visited one of the camps for displaced people about 40 kilometres from the capital Sanaa. They fled from the city of Sada. 
Most of the people at the camp – called Darwan – escaped from the Arab Alliance Force's bombing of the city. It is seen as the main stronghold for the Ansar Allah movement – the Houthis who have been accused of striking Saudi cities in the south of the country.
"The area where I lived was bombed, some died others were lucky enough to survive. We were able to get out of Sada and that was not easy as the shelling kept going on for an entire week preventing us from leaving the city," one of the men explained.
Euronews saw the living conditions in the camp where people use whatever they can find to make makeshift shelters to live in. There is a severe shortage of food and drinking water, sanitation is poor. All around there is the potential for the spread of disease.
"In this camp we suffer from the cold weather at nights, and the scorching sun during the day, and sometimes my kids don't eat for about 3 or 4 days, we continually suffer from the lack of water and gas ….we have nothing," explained one of the mothers at the camp.
Many of the children have infections and there are no clinics where they can get treatment.
The United Nations Humanitarian Coordinator in Yemen, Jamie McGoldrick. told Euronews what's going on in the country is "an alarming story".
"Fourteen million people require food assistance, seven million of those people are very, very severely in trouble for security wise. If you look at the number of kids out of school, there are over three million children in this country who don't get to school. So for them it is a life with pain, no life at all but pain. And if you look at the situation regarding health structures, the inability for people to bring food into this country, to bring medicine into this country, to bring fuel into this country, is hampering the possibility for them having a future," he said.
According to the latest statistics from the regional office for the International Organization for Migration and the UNHCR, the number of displaced people has reached about two and a half million.
Euronews correspondent Mohammed Shaikhibrahim reported from the camp: "The displaced people here are paying the high price and bearing the consequences of this war and political conflict, especially the children, and this camp here is just one of dozens all over Yemen suffering quite literally from disastrous conditions."