Regional powers fight bloody chess game in Yemen
Comments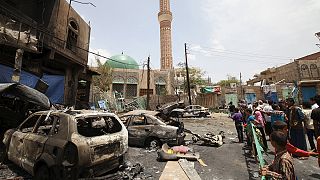 Yemen is a regional proxy battleground between Sunni Muslim Saudi Arabia and Shia Muslim Iran.
The destruction caused by Saudi-led coalition airstrikes in the capital Sanaa is the tip of the iceberg of far-reaching regional stakes.
Iran supports the Houthi, the northern Yemen Shia minority rebels, whose goal is to seize power. In September, the Houthis overran the capital, thrusting south and eastwards. Now they control much of the country.
In February, President Abd Rabbuh Mansur Hadi, in power since 2012, fled from Sanaa to Aden in the south.
For Iran, Yemen holds potential as an Achilles Heel for action in the Saudi peninsula. The rise of the Houthi rebels in Yemen played in favour of Iran.
North-south tribal disputes have also made Yemen fertile ground for Al Qaeda in the Arabian Peninsula.
Crossing a line
The Saudi-led airstrikes began when the radical Islamic State movement, even more extreme than Al Qaeda, first attacked Shia mosques with suicide bombers in Sanaa, in March.
Planes from Egypt, Morocco, Jordan, Sudan, Kuwait, Emirates, Qatar and Bahrain took part in the airstrikes, with US logistical and intelligence support.
The Saudi foothold in Yemen has been increasingly tenuous since their ally Ali Abdullah Saleh — President of North Yemen from 1978 until unification with South Yemen in 1990 — was forced to cede power to the opposition in 2011. Saleh went into exile in Saudi Arabia.
Numerical superiority
Sunnis count for 80 percent of the region's Muslims, so it is clearly in the interest of regional power Shia Iran to consolidate wherever it can, such as in Yemen or Syria — either to build bargaining power or security buffers.
Saudi Arabia's southern border with Yemen threatens to become a soft underbelly.
UN-sponsored cease-fire talks opened in Geneva on Monday, with the Houthis saying they are battling a corrupt government and Islamist militants.
They deny receiving any support from Iran and say prospects are being spoiled by Saudi involvement.