David Cameron describes Nigeria and Afghanistan as "fantastically corrupt"
Comments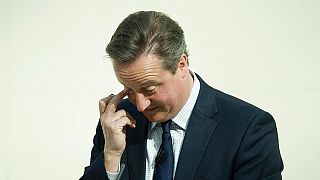 The British Prime Minister, David Cameron, has been caught on camera describing Nigeria and Afghanistan as two "fantastically corrupt countries" in a conversation with the Queen.
Cameron was at Buckingham Palace for an event to mark the Queen's 90th birthday. He was talking to her about an anti-corruption summit that the leaders of both countries will attend later this week.
"We had a very successful cabinet meeting this morning, talking about our anti-corruption summit. We've got the Nigerians… We've got some leaders of some fantastically corrupt countries coming to Britain. Nigeria and Afghanistan, possibly the two most corrupt countries in the world," Cameron could be heard saying.
In the video, the Archbishop of Canterbury Justin Welby can be heard stepping in diplomatically to defend the president of Nigeria. "But this particular president is actually not corrupt," he said.
The Nigerian President, Muhammadu Buhari, said he was "shocked" by the comments and Afghan officials described them as "unfair."
The government is due to host the anti-corruption summit on Thursday in London, with its aim is to "galvanise a global response to tackle corruption".