Aleppo truce extended as foreign ministers meet
Comments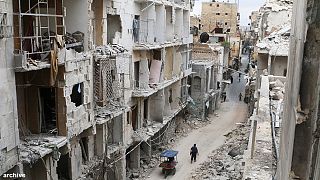 Against a backdrop of intense international diplomacy, a fragile truce continues to hold in the embattled Syrian city of Aleppo.
The fragile ceasefire, announced by Syrian state media, is set to hold until midnight on Wednesday.
Despite that, residents still reported sporadic rocket attacks.
"This is the fifth or sixth time I have seen a rocket attack. We have gotten used to it. The situation this week is better. We were hit many more times last week, as they fired more than 20 homemade bombs at us. The whole neighbourhood was under rocket fire attack, '' said one local business owner.
Aleppo is seen as key to bolstering a nationwide truce in Syria and in Paris foreign ministers continued their push to find a more lasting cessation to the hostilities.
France's top diplomat Jean-Marc Ayrault said: "Our common goal is to implement this declaration, there is no point simply having another declaration. It has to be respected by all the parties as quickly as possible.''
Ayrault also said more talks were planned in Vienna next week in the hope of reviving Syria's stalled peace process in Geneva as soon as possible.