Austrian chancellor steps down after disappointment in presidential elections
Comments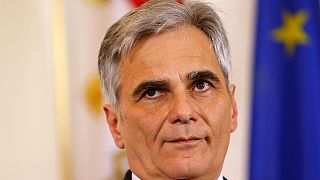 He's the latest – and one of the most prominent – politicians to fall under the pressure of the migrant crisis.
In a surprise to many, Austrian Chancellor Werner Faymann has announced his resignation as leader of the country and his SPO Social Democratic Party.
"At this difficult time, do I have the full support of my peers?" he asked. "Does the party have my back? I have to answer this with 'No.' This strong support has been lost."
His statement comes two weeks after the SPO suffered heavy losses in the first round of the presidential election.
The populist right-wing, anti-immigration Freedom Party – or FPO – made huge advances. Taking home 35.1 percent of the ballot, the party scored its best-ever result in a national vote.
FPO leader Norbert Hofer rode to victory on an anti-Islam, eurosceptic
platform. He will face independent candidate Alexander Van der Bellen in the runoff presidential election on May 22.
The conservative Vice Chancellor and Economics Minister Reinhold Mitterlehner will take the reins as interim leader of Austria, while Mayor of Vienna, Michael Haeupl has been nominated temporary head of the Social Democrats.
Faymann recently provoked criticism within the SPO when he ceased to support his German counterpart's open-door migration policy, erected a partial border fence and agreed to impose a cap on daily asylum applications.