So kitsch it's cool!: Eurovision exhibition opens in Sweden
Comments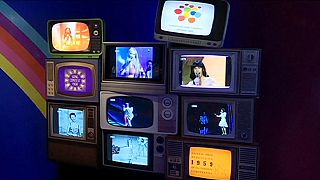 Oh yes, it is that time of year again!
And with the Eurovision Song Contest just days away in Stockholm, an exhibition has opened there showcasing colourful costumes worn over the years in an annual TV extravaganza you either love or loathe.
The official #Eurovision Song Contest exhibition is now open at @ABBATheMuseum! Do you recognise these costumes? pic.twitter.com/PNeaMoKE5K

— Eurovision (@Eurovision) 7 mai 2016
It's the brainchild of former winner – Bjorn Ulvaeus from Swedish supergroup Abba.
"It is, you know, one of the very few events when the broadcasting of Europe gets together for a live event and one of the few where Europeans can feel connected," he said, launching the 'Good Evening Europe' exhibition on Saturday at ABBA The Museum in Stockholm.
"I mean it is happening at the same time in Romania and in Holland. And when the announcers announce the points we feel a bit closer to those people."
Two @Eurovision winners meet for the 1st time - ABBA's Björn (1974) and Nicole (1982) "I loved your song" he said! pic.twitter.com/qaHX97e6V9

— EBU (@EBU_HQ) 28 avril 2016
In fact, Romania has just been expelled from the contest for not paying its debts!
Eurovision 2016: Romania expelled from Song Contest over broadcaster's £11m debts https://t.co/EAEZ1TF8edpic.twitter.com/3yUguths6J

— Daily Express (@Daily_Express) 22 avril 2016
Never mind, at the exhibition, anyone can take part in the fun, with interactive quizzes and an opportunity to sing along to Eurovision classics.
The Eurovision Song Contest, one of TV's longest running shows worldwide, was first held in May 1956.