Syrian and Russian military deny conducting air strike on refugee camp
Comments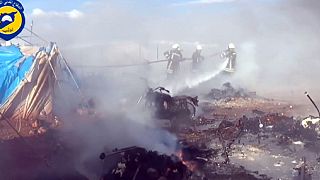 The Syrian military has denied it conducted deadly air strikes on a refugee camp near the Turkish border. It comes after the Russian Defence Ministry said no aircraft flew over the camp that day, and suggested rebel group, al-Nusra could have been responsible.
The UN has called for an inquiry into what they said could be a war crime and added that initial reports, which remain to be verified, suggested Syrian forces were behind the attacks. Rupert Colville, the UN Human Rights chief spokesperson said:
"At least 30 people killed, we understand possibly more, and really, I mean, it seems impossible that this could be an accident. I mean, if you flying an aircraft you can see a camp like this very clearly, you can see what it is. So it looks, it looks awfully like this was deliberate, and if so it would be a war crime."
The strike took place in Idlib province 30 kms to the west of Aleppo which has been subject to a temporary ceasefire since Thursday.
As the US and Russia attempt to calm hostilities, activists report that opposition groups are gaining ground around the city.
Multiple rebel sources say that Khan Touman, located on the highway to Aleppo, had been captured. A Syrian army source denied the village had fallen.