Air strike kills dozens in Syrian refugee camp
Comments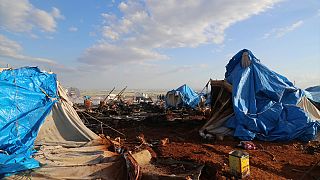 The camp took two direct hits. I heard many tents were on fire.
Activists and eyewitnesses say at least 28 people have been killed by an air strike on a refugee camp in rebel-held northern Syria.
The London-based Syrian Observatory for Human Rights says dozens of people are thought to have been wounded.
Images on social media appear to show the aftermath of fire among the tents at the Kamouna camp, near Sarmada in Idlib province, 10 kilometres from the Turkish border.
It is 30 km west of the city of Aleppo.
Warplanes target Alkmaounah Camp in #Sarmada#Idleb, killing 30, wounding dozens &burning more than 50 tents#Syriapic.twitter.com/mpnlWZZKe4

— Syrian Coalition (@SyrCoalition) May 5, 2016
"There were two aerial strikes that his this makeshift camp for refugees who have taken refuge from fighting in southern Aleppo and Palmyra. The camp took two direct hits. I heard many tents were on fire," said Abu Ibrahim al-Sarmadi, a local activist.
The ground is still smouldering in places.
There has been no confirmation of who carried out the attack.
It comes less than a day after Syrian troops and some rebel forces implemented a 48-hour ceasefire in and around Aleppo, following pressure from Russia, the US and UN.