Ceasefire in Aleppo in "the next few hours"
Comments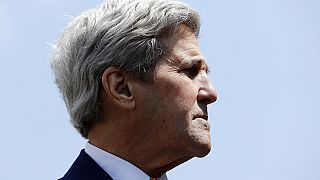 Diplomats discussing
Rockets fall on civilians in Aleppo
Scores are dying
What has Kerry said?
The US secretary of state says he is confident a ceasefire will be reestablished in Syria in the next few hours.
John Kerry made the comments during a State Department briefing to reporters.
Secretary JohnKerry</a> comments on the situation in <a href="https://twitter.com/hashtag/Syria?src=hash">#Syria</a> <a href="https://t.co/BjOPyJrB8Y">https://t.co/BjOPyJrB8Y</a></p>&mdash; Department of State (StateDept) May 3, 2016
He said he was particularly concerned with the violence around Syria's largest city, Aleppo. He warned that, without a cessation of hostilities, the violence "is in danger of spiraling out of control."
"There is no justification for this horrific violence that targets civilians or medical facilities or first responders no matter who it is. our hope is that they're able to come to an agreement and that we can move forward on the agreement. If that doesn't happen in the next hours, I'm still confident that we will find a way to be able to work through. If it isn't in the next hours, as I say, it will be in the next day or so".
Kerry described urgent meetings among Syrian and international partners to come to a solution.
How bad is the situation in Aleppo?
Rebel fighters launched an unexpected assault earlier in the day.
At least 19 people died when rockets were fired on civilian targets, among them a hospital.
The rebel attack followed government air strikes on rebel areas, including one that hit a hospital last week.
The charity MSF said 55 civilians were killed.