Securing shelters in the earthquake hit provinces of Ecuador
Comments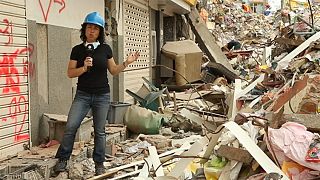 Ecuador's earthquake hit provinces have become the centre of national and international aid. The city of Manta in the central area was hardest hit. Here is a no man's land cordoned off. Soldiers, firefighters, and residents can enter. Clearing up is ongoing. People are still missing. Euronews was given access to see the operation.
"We are in Tarqui district, in the centre of Manta. This is the most affected area. Nearly all the buildings have been seriously damaged or collapsed. Behind me there are the remains of a bookshop. It's here that the highest number of victims has been registered. The rescuers have written it clearly on this wall, 92 dead and 31 rescued," reported Euronews correspondent Monica Pinna.
The level of destruction in the main affected municipalities ranges between 30-90%, according to local authorities. In the cordoned off areas soldiers watch for looters while residents recover their things in the buildings which have been assessed as "secure".
"We are allowed in area by area and once this area will be completed, other residents will be allowed in other zones. We started collecting our things here yesterday and today we'll finish," explained on resident.
The death toll currently stands at 660, with around 20 still missing and 4,605 injured. Six provinces remain on red alert, but the first emergency phase is officially closed. Humanitarian work is underway.
"We are in the phase of securing temporary shelters for residents, in order to guarantee those people who have lost their homes, and who have lost everything so that they can live with dignity in the next month," Ricardo Peñaherrera from the National Emergency Management Office told Euronews.
Over 1.2 million people, according to official government figures have been affected, 520,000 in Manabi province alone. Around 30,000 have been provided with shelters but many prefer to camp to be near their homes. One garden has become an improvised campsite.
"I've been here for 16 days because my house was destroyed. I had a little business there and everything came down. The few things I've managed to recover are here with me. I am waiting for my house to be demolished so that I can clean up and make a plastic tent in which we can live," one resident explained.
On 16 April, a 7.8 magnitude earthquake – the third strongest ever registered in Ecuador's history – struck coastal areas in the north-west of the country.
Follow our full report on Aid Zone, on May 19 on Euronews.