Hunger is no game as Italian court quashes homeless man's food theft conviction
Comments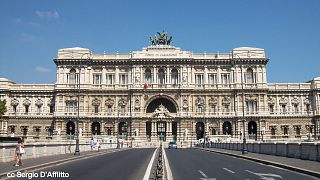 Italy's highest court has delivered a verdict that is firmly rooted in reality.
The ruling concerns Roman Ostriakov a homeless man who in 2011 was caught with a sausage and a piece of cheese hidden under his jacket in a supermarket in Genoa, Italy.
GoogleExpertUK : RT MissAmyVarle: How Can We REALLY Help The Homeless? (Controversial) https://t.co/E4ixDlZnkp#b… pic.twitter.com/HdN7U850gp

— habibul mustafa (@armanhabib20) April 25, 2016
As Mr Ostriakov paid for some breadsticks he was shopped by a fellow customer.
In 2013 Mr Ostriakov was sentenced to six-months in jail and fined €100.
This week the Supreme Court of Cassation overturned Ostriakov's theft conviction, ruling that stealing small amounts of food to stave off hunger is not a crime.
Freedom from Want https://t.co/Dlvt6FKHPEpic.twitter.com/ixNTBByW0Z

— Robert M. Goldstein (@Robrt_M_Goldste) April 28, 2016
Many in Italy have praised the ruling as the economic crisis has seen a sharp rise in the number of elderly stealing food from supermarkets, according to the consumer rights group Codacons.
It continues "A small theft because of hunger is in no way comparable to an act of delinquency, because the need to eat justifies the fact."
Buon appetito.